Ingredients Required:
Package of Dumpling Mix
1 Large Egg
2 Cups Water
Makes approx. 7 Dumplings  enough for 2 people
The 3Bs asked our Mom and Oma (same person) to teach us how to make German dumplings. They are called KNÖDEL in German.  They are so delicious we ask for them all the time for special dinners. She was more than happy to share her recipe and thought it was a hoot that she was going to have it on a blog. We had such a great time in the kitchen listening to her instructions for these – please be aware some measurements on the recipe are not entirely exact as that generation cooked with a pinch and a swirl here and there.
Boil a large pot of salted water – salt the water to taste – make sure it is not too salty.
We used packaged dumpling mix for the base – picture is shown below. The owner of the recipe (mom/oma) swears that this package type is the best.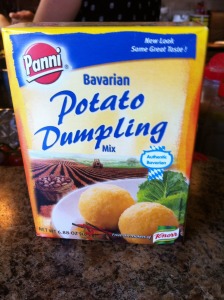 For each package you will need to add 1 large egg and 2 cups of water
Mix together to  consistency of dough – it has to be a bit soft not crumbly – if it is not quite right add a bit more water.
It needs to stand for 10ish minutes – add a bit more water yet again – the texture should be soft and smooth but not watery.
Then roll palm size Dumplings.  Apparently the Dumplings were a bit bigger  as you can see in the next picture but no matter they still tasted good.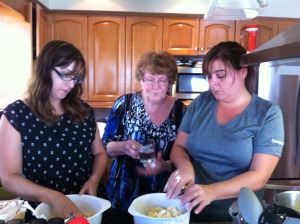 Add to boiling water.  Drop the Dumplings in carefully.
Let the water come back to a boil. Once the water starts boiling again turn down the heat and simmer on medium (about 20 minutes) till they float then take out carefully.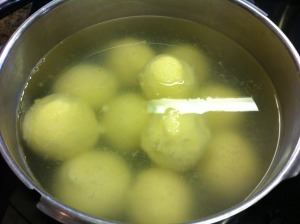 Serve with gravy.  This is usually made with a pork  roast and gravy at Mom's House.