My good friend Leslee shared this recipe with us and we had so much fun learning how to make this German Dish. They were delicious. This is a picture of the spaetzle and schnitzel we made a bit later.
Ingredients:
3 Dozen Large Eggs
13 Cups White Flour
1 3/4 Cups Milk (1%)
Aprox 1/2 cup of Butter to fry Spaetzle
Salt and Pepper to Taste
Approximately 36 Servings (can freeze some portions for later) – just defrost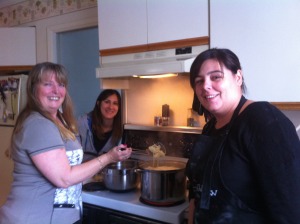 Mix Eggs and Liquid First
Then add Flour slowly and mix. The dough should fall off the spoon and stretch before it falls. You may need to add a bit more flour or milk for this consistency.
Using a spaetzel maker makes it easier to make the noodles.  Here is a video on the use of that making spaetzle.  Alternatively you can roll the dough out and slice in thin strips to make noodles.
Boil a large pot of water to cook the noodles in . You will also need a cold bowl of water to put the noodles in to cool down immediately after taking out of the boiling pot.
Cook one cup of noodles at a time for one to one and a half minutes. Then take out noodles with slotted spoon and put into cold water. Then do another cup until all the batter is gone. (We cooked approximately 30 batches.)The noodles will float to the top when cooked. You can tell noodles are cooked when they don't feel or look slimy. (If boiling water is trying to overflow when cooking add a bit of salt to stop it from doing that.)
We did have some noodles that were fails – here is the picture of those.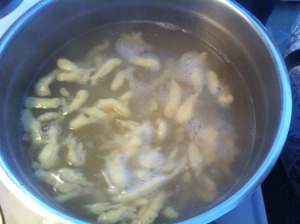 Refresh the cold water when needed and add more hot water if the water evaporates but do not add anymore batter until water starts boiling again.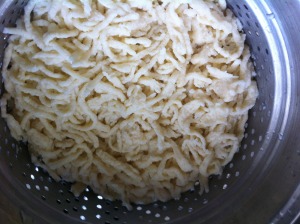 The final step of this is to fry the noodles with butter so they are crispy and brown. Add pats of butter for a yummy taste. Accompany with Schnitzel for an authentic German meal.  Adding Gravy to the noodles will be the icing on the cake.