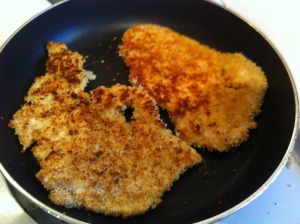 Ingredients Required:
8 1/2 Boneless Chicken Breasts
1 Cup Flour
3 Cups Panko Breading (we used Japanese Style) or Regular Breadcrumbs
3 Large Eggs
1/2 Cup Milk
1/2 Cup Butter
Grapeseed Oil to cook Schnitzel
Salt and Pepper to taste
Parchment Paper  (this will be used to pound Schnitzel Flat)
Approx Servings for 8
Pound chicken breasts so they are nice and thin (make sure you use parchment paper to cover  it before pounding).
Beat eggs and then add milk in one bowl.
In another bowl  add flour, salt and pepper to taste.
In third bowl add the panko breading.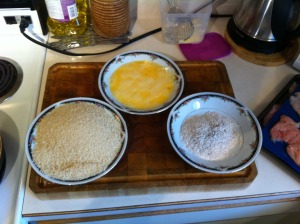 Then dredge schnitzel in flour first, then dip in egg, then comes the breadcrumbs.
The schnitzel piece below was kind of strange in size as you can see but it worked.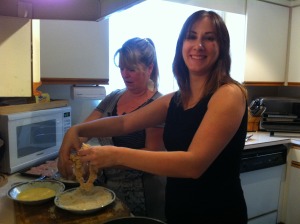 Cook Schnitzel on low medium heat.  Add a pat of butter on top (about a tsp to a tsp and 1/2). Cook for 5 minutes and then flip to the other side – add another pat of butter.
Thank you to our friend Leslee for contributing this recipe and sharing it with us.