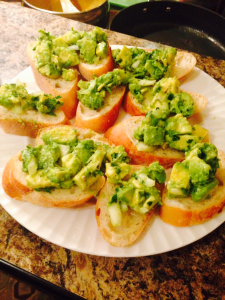 Ingredients:
1 French baguette
2 Cloves garlic, cut in half
4 Tablespoons extra virgin olive oil
4 Avocados, chopped
⅔ Cup sweet onion, finely chopped
½ Cup chopped cilantro
4 Tablespoons lime juice, freshly squeezed
1 Teaspoon sea salt
½ Teaspoon black pepper
Preheat oven to 400˚ Fahrenheit.
Cut French baguette diagonally into ½ inch slices. Place the slices onto a baking sheet.
Place in oven for three minutes. Take out of oven, flip slices over, and toast in oven again for three more minutes.
Take toasts out of the oven and rub garlic onto each toast piece (with the cut side down so that the garlic oil will seep onto the bread). Then brush the tops of the toasts with olive oil.
In a large bowl, combine chopped avocado, cilantro, onion, lime juice, salt, pepper. Toss gently to combine flavours.
Spoon mixture onto toasts and serve.