Preheat oven to 350 Fahrenheit
Ingredients for cake batter:
1 extra large egg
1 cup flour (Oma used liquid measuring cup for this)
3 1/2 to 4 gala apples
1/4 of a pound of butter (unsalted)
1/4 teaspoon Dr Oetker roma roma (rum flavoring) (this can found at a deli or a grocery store that sells speciality baking goods)
1/2 cup sugar
1/2 tsp baking powder
To Make Batter:
Mix butter, rum flavoring, sugar and egg with a fork.
Then add baking powder and mix.
Add flour into the mixture and continue mixing.
Butter a round pan (approx. 8-9 inches), then put mixed batter into the pan.
Ingredients for Crumble Topping:
3/4 cup flour
1/2 cup sugar
1 teaspoon of vanilla sugar powder
1/4 cup of flour
1/4 butter
To Make Crumble:
Knead  all ingredients except butter – add butter a little bit at a time until you have a crumbly texture- you may not
need all the butter to accomplish this or if you have added too much butter add a bit more flour. Oma says if there is too
much butter in the mixture it will be too crunchy.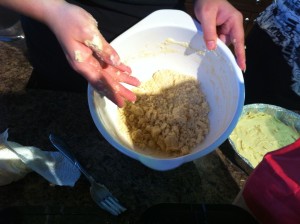 To complete the apple filling:
Core apples, then cut in thin slices. Apple slices should be added to batter standing them up side by side. As per Oma it
does not make any difference what the pattern is to the cake just make sure the slices are close side by side.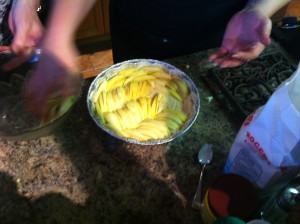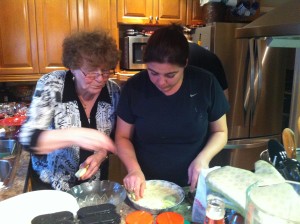 Add the crumble topping.
Bake for 50 minutes.
Oma's fun tips for this recipe:
When we asked about measurements several times, Oma stated, "I have to see!", so we measured everything she "saw".
She also said, "The batter should not be punchy", which after some discussion we translated to mean "not over mixed".