This recipe is kindly shared by Claudio who tells us it came from the old country. Thanks so much for letting us in on the secret.
Ingredients:
6 c flour (white) or if using a kitchen scale it is equal to 1 Kilo
3 c water
2 1/2 teaspoon yeast (not instant)
1 tablespoon  dried oregano
1 tablespoon of honey
1 teaspoon sugar
1/2 cup olive oil
1 tablespoon kosher salt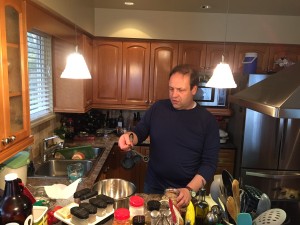 Preheat the bowl by filing it with warm water for approx. 10 minutes (outside of bowl should be warm to the touch). Claudio used a metal bowl. Add 1 cup of warm water, the yeast and sugar to the bowl. Then cover with a tea towel and let stand for 20 minutes to half an hour to activate the yeast. It will become foamy.
Mix the final 2 cups of warm water to the mixture along with the olive oil and honey.  Mix flour, half the salt and half the oregano in a separate bowl.  Then mix half of the dry  mixture to the wet mixture.  Add the remaining  dry mixture to the wet bowl.
The dough should be be very sticky.  Oil a rectangular baking pan that has a lip. Add parchment paper and oil that as well. Pour the dough into a baking sheet.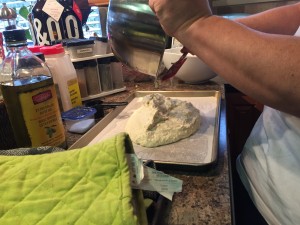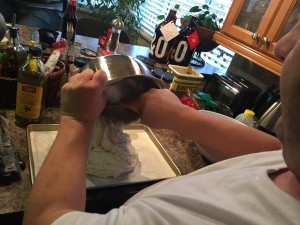 Claudio says we need to corral the dough down and push it to the edge of the pan using oiled hands.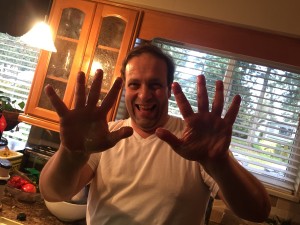 Wrap pan with plastic wrap and put it into a preheated  200 Fahrenheit oven- leave the oven door slightly open. Claudio told us that was a cheating way to make the dough rise faster instead of waiting and waiting since it usually takes about 2 hours to rise.
We left it for about an hour and it rose almost to 3 times its size.  Remove the plastic wrap carefully.
Claudio's technique involves his technical bread tapping which is essentially tapping the dough with your fingers to imprint them in the dough. Oil your fingers for this process. Yes all those imprints are essentially fingerprints – who knew! Looks like it is serious business.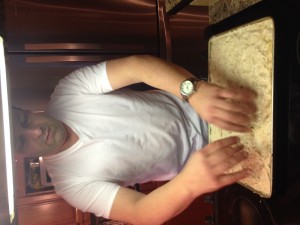 Mix 1/4 cup olive oil and a bit of water. Use a brush for the oil mixture to brush the oil on the dough – starting at the edges and working your way in.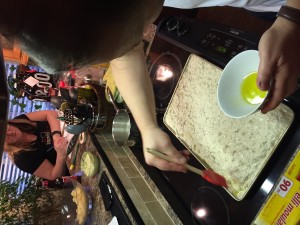 Mix remaining oregano and salt. You can also add other herbs that you would like to have on it or garlic powder. Spread the mixture everywhere on the dough.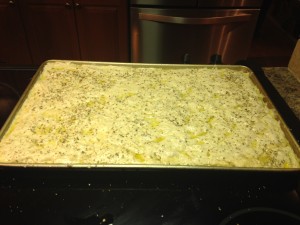 Preheat oven to 425 Fahrenheit. Cook for 15 minutes then drop the temperature to 400 and cook for another 20 minutes. When the bread pulls away at the edges and is golden brown it is done.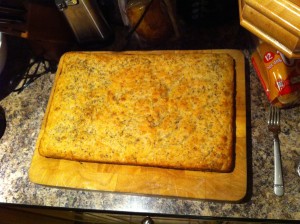 Put the bread on a wire rack. I did not have this so we used a bread board and then added a tea towel underneath so it wouldn't get moist at the bottom. Enjoy this yummy bread with a dip or just by itself.