Ingredients Required:
3 Cucumbers
1/4 cup vinegar
Enough Water to cover top of your cucumbers when sliced
1 swirl of olive oil   (sorry measurement came from my mom – this is how she measures) when questioned she stated not too oily – I estimated about a tablespoon
Makes Approx 8 – 10 servings
This salad should be prepared one and a half hour before serving for maximum flavour
Take cucumbers and remove skin, Then use peeler for the cucumber to make extra thin slices for the salad.
Everyone thought this was the strangest peeler they have ever seen but it did the job.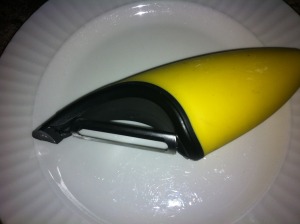 Add the vinegar, salt and pepper to taste and your swirl of olive oil. Add enough water to cover the cucumbers. Mix all ingredients together.
Let sit until serving for the yummiest cucumber salad.