Ingredients:
Half a leek
Half a parsnip
5 to 6 Chicken drumsticks (antibiotic free)
6 Cups of water
Half of a small cauliflower (save some of the greens from the cauliflower as well) – yes it is Oma's secret
1 Quarter of a small yellow onion
2 Small carrots
3 Cloves of garlic (if using regular garlic). If you would like to use Russian garlic will need to use less as the flavour is stronger.
2 Chicken bouillon cubes
2 Handfuls of small thin egg noodles (see picture below)
Salt and pepper to taste
Preparation:
Mince garlic.
Use the bottom 6 inches of leek for recipe.  (I didn't know this and was always using the tops for the soup).
Peel leek so you can wash the dirt out of the layers. (Yup another thing I learned). Slice.
Peel parsnip and mince.
Cut carrots in thin circles.
Mince onion.
Cube cauliflower heads – do not add the stalk but coarsely rip a few small pieces of the greens.
Remove skin from the chicken thighs, then wash chicken in cold water.
Add all of the ingredients except cauliflower together in a pot.
Bring large pot to boil.
Then cover and cook for 20 minutes on medium heat.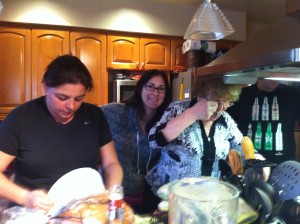 Remove drumsticks from pot.  Cut the meat off 3 of the drumsticks and chop it into bite-sized pieces. Return chopped meat to soup. Save the rest of the drumsticks for snacks.
Add cubes of cauliflower and the secret cauliflower greens to pot.  As per Oma this adds a bit of colour – who would have thought. Don't forget to add the salt and pepper to taste.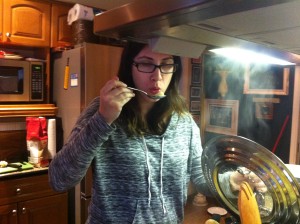 Add the noodles and bouillon cubes to soup mixture.
Cook for another 15 minutes on low and viola you have yummy homemade chicken soup.